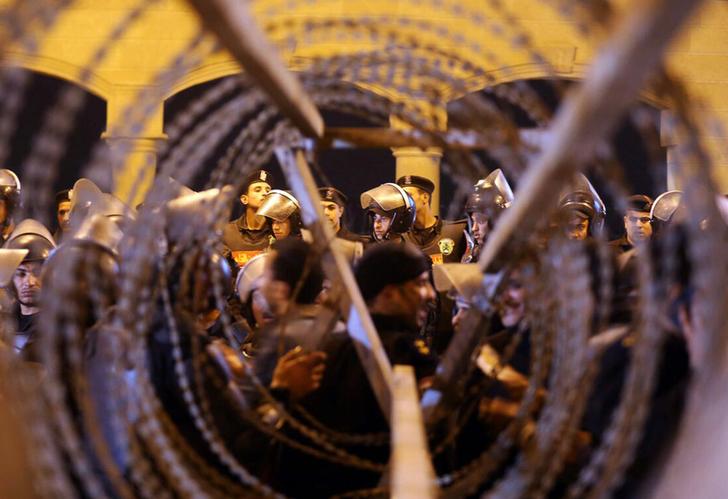 Policemen and soccer fans are seen through barbed wire as fans attempt to enter a stadium to watch a match, on the outskirts of Cairo February 8, 2015. REUTERS/Al Youm Al Saabi Newspaper
CAIRO, Mar 17 (Aswat Masriya) - Egypt's top prosecutor accused on Tuesday the Muslim Brotherhood of coordinating with Zamalek Sporting Club's ultra's group to commit acts of violence ahead of a football match which left at least 19 fans killed.
Prosecutor General Hisham Barakat referred to trial 16 defendants in the case, 12 of whom are in custody, he said in a statement. Barakat identified the defendants as members of the banned Muslim Brotherhood and "Ultras White Knights" group, which supports the Zamalek Sporting Club.
The deadly incident broke out ahead of a game between Zamalek and Enppi clubs on February 8 and left at least 19 people dead, according to figures by the East Cairo Prosecution.
The prosecution accused the Muslim Brotherhood of funding ultras members and providing them with explosive materials "to cancel the activity [of football] and foil the Egypt Economic Development Conference."
The conference was held over the weekend, where contributions worth $72.5 billion were pledged for Egypt's economy.
The 16 defendants were charged with murder, vandalism, resisting the authorities and the possession of explosive materials, the prosecution said.
According to the prosecution's statement, ultras members gathered outside the gates of the stadium where the game was held, using violence against police forces sent to secure the game.
The prosecution accused the fans of attacking police forces with fireworks and verbally assaulting them, causing the injury of a number of policemen and torching a police car.
The police responded with firing teargas to separate them, the prosecution said, causing a state of "chaos and a stampede" among fans attempting to enter the stadium, and leading to several deaths and injuries.
A preliminary medical report by the Forensic Authority suggested on February 9 that the 19 people were killed in a stampede, denying that any of the deaths were caused by live ammunition, birdshot or suffocation from teargas.
The Egyptian Football Association announced the indefinite suspension of all football activity on February 9.
The cabinet however decided on February 25 to establish a committee to arrange the resumption of the Egyptian premier league within almost three weeks, yet without spectators.